Oops, we did it again ! Hawaiian Hope gives away over 200 computers - on a single night !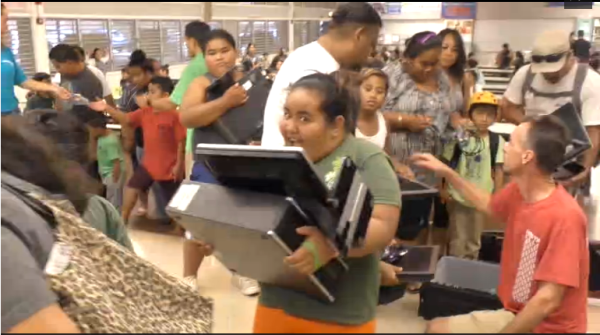 On Tuesday May 16th, 2017, we gave away over 200 computers to the kids of Palolo Elementary School. Every child in the school got a computer
- for the kids to take home - not for the school.

Short video : https://www.dailymotion.com/video/x5pxgrj
Full video : https://www.dailymotion.com/video/x5pd989

People often ask - "What do you guys do with all of those computers you get as donations ?"
Our Answer ?
We change lives.
Consider what this donation means to the children receiving the computers : How many of those families would be able to afford to purchase a computer for their child's education. We just flooded a low income community with technology that can help them completely alter their life paths. What impact will this have on that community and the individual students over the next 5 years, 10 years and even their lifetime ?
To date we have given away over 1,500 computers, and, we plan to give away thousands more !
If you believe what we do is has a positive impact, please consider making a financial donation on the right side of the page. Every dollar counts !
About Hawaiian Hope :
* Hawaiian Hope is a 100 % volunteer organization. We have no paid staff !
* Hawaiian Hope has NO government grants of any kind. So, Yes, Every dollar you donate goes a long way !
* Hawaiian Hope Org is a fully qualified 501(c)(3) non profit organization. Donations are Tax deductible.
* We are looking for a new home base of about 5,000 square feet.
* Our Internet Cafe Business plan won 3rd place in a non profit business plan competition against 57 other organizations, many with much larger financial backing.
* In our Internet Cafe, We had over 15,000 people through our front door in 6 months.
* Our Internet Cafe kept about 30 kids a night off the street and from getting into trouble.