Hawaiian Hope gives away over 100 computers
on a single night !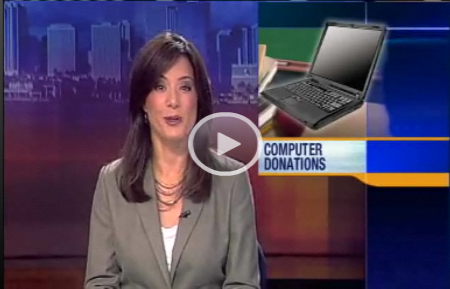 KITV Article : http://www.youtube.com/watch?v=ug6ndTdVrqA


Hawaiian Hope through The Queen Lili'uokalani Children's Center and Hau'ula Elementary School hosted an incredibly special evening designed to have a life lasting impact. Every student in the 4th, 5th and 6th grades, 105 students in all, received as a gift a full computer system to take home. These computers are not on loan, but a personal gift for students to keep, learn on and have fun with.

People often ask - "What do you guys do with all of those computers you get as donations ?"
Our Answer ? We change lives.

Consider what this donation means to the children receiving the computers : How many of those families would be able to afford to purchase a computer for their child's education. We just flooded a low income community with technology that can help them completely alter their life paths. What impact will this have on that community and the individual students over the next 5 years, 10 years and even their lifetime ?

And this is JUST the start. To date we have given away over 700 computers ! Hawaiian Hope plans to continue and even expand this project and get technology into the hands of as many low income people as possible.

If you believe what we do is important and has a positive impact, please consider making a financial donation on the right side of the page.

Donations will be used in assisting us in our move to a new location.
We plan to expand to 100 computers in our Internet Cafe at our next location.

About Hawaiian Hope :
* Hawaiian Hope is a 100 % volunteer organization. We have logged over 1,200 volunteer hours in a single month.
* Hawaiian Hope is almost 100% self funded with no government grants of any kind.
* We have been serving the IT needs of other non profits, the homeless and low income families for 5 years.
* We have 3 separate funding streams of which Our latest project is an award winning Internet Cafe.
* In 5 years we have given away over 700 FREE computers to other non profit orgs and low income families.
* At one point we Occupied over 2,500 Square feet, of floor to ceiling computer inventory
* We have been paying rent for the past 3 years with no outside assistance.
* We are looking for a new home base of about 3,000 square feet.
* From just one project, Our Internet Cafe, we generate enough revenue to pay almost all of our bills for the whole organization.
* Our Internet Cafe Business plan won 3rd place in a non profit business plan competition against 57 other organizations, many with much larger financial backing.
* In our Internet Cafe, We have had over 15,000 people through our front door in 6 months.
* We plan to expand to 100 computers in our Internet Cafe at our next location.
* Our Internet Cafe kept about 30 kids a night off the street and from getting into trouble.
* We currently have 700 computers in stock.